Branding, Exhibition, Logos, Packaging, Promotional, Web Development
Since Cafe Racer Vape was established in 2015 we have worked with them to provide numerous marketing solutions from web sites and promotional materials to trade-show booths, packaging, and recently a full rebrand of their entire vape liquid product line. In less than four years we have helped them go from making their first appearance in Miami as a fledgling vape liquid company to establishing an award-winning world-wide presence in over 40 countries and moving over 50,000 units monthly.
CafeRacerVape.com
Web Development, Branding
In 2015 When Cafe Racer first came to us to help build their brand one of the initial projects was to develop and easily to use eCommerce storefront. To accomplish this we created an easy to use and manage Shopify site on a heavily customized template that reflected the brand's image and style.
Over the years we have worked on custom sub-brand landing pages, site graphics, and managed some of the back-end running of the site. We also setup custom email servers, a cloud storage solution and other back-end solutions outside of Shopify.
More recently we created an updated site to reflect the new look and feel of their 2018 rebrand.

Promotional Materials
Promotional, Branding
Every successful business needs promotional materials and Cafe Racer is no exception. We have worked closely with the brand to produce vape liquid menu cards, party invitations, and counter displays to international magazine ads, posters, and catalogs.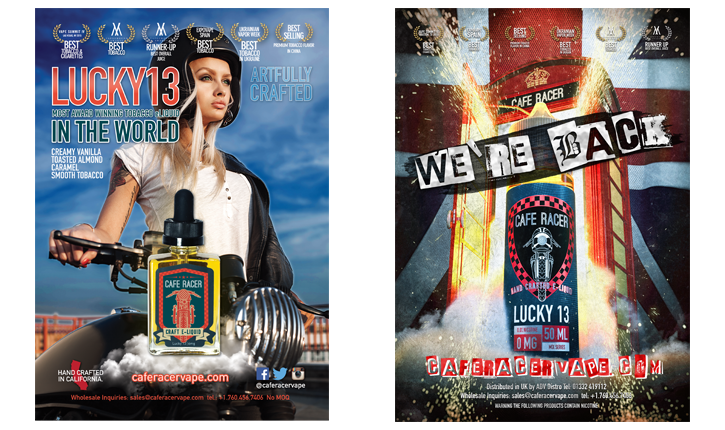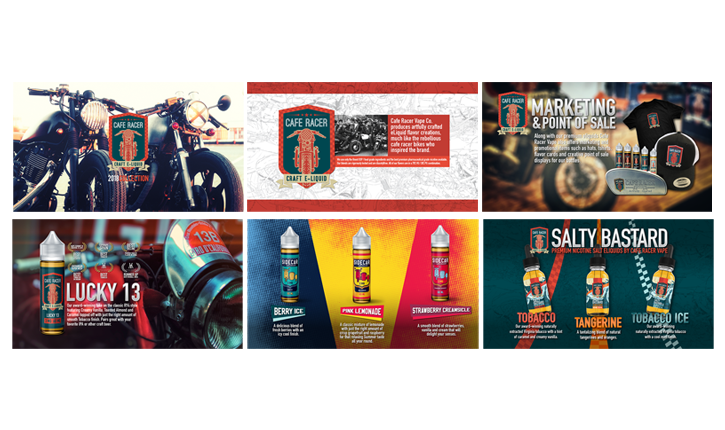 Exhibition Booths
Exhibition, Branding
From the beginning of our work with Cafe Racer some of our favorite projects have been developing designs for the large scale booths that they use all over the globe at vape conventions and trade-shows. Some of the designs we have created have even gone on to influence the look and feel of Cafe Racer's updated branding, packaging, and sub-brands.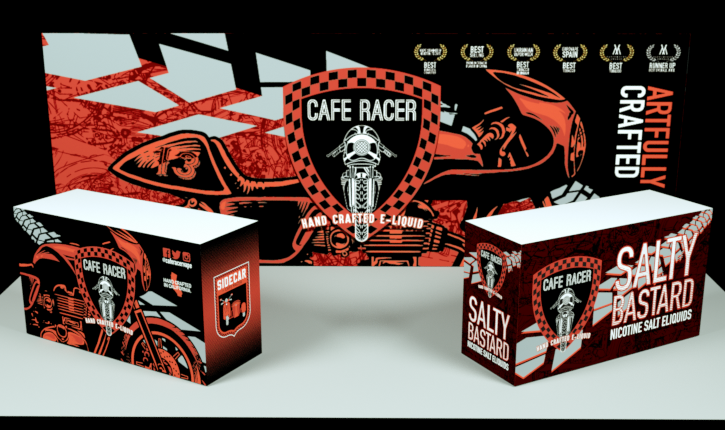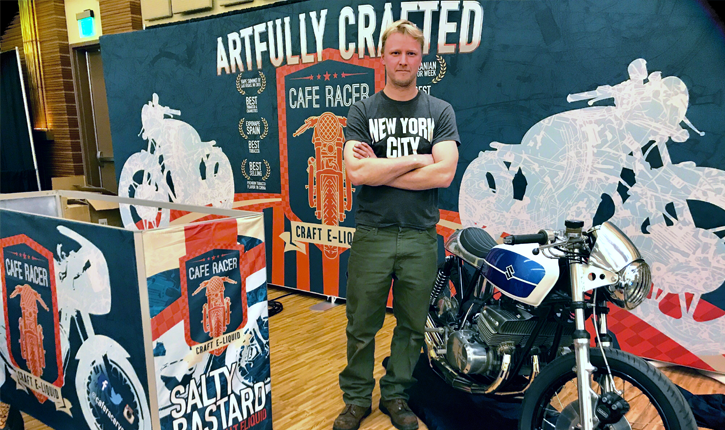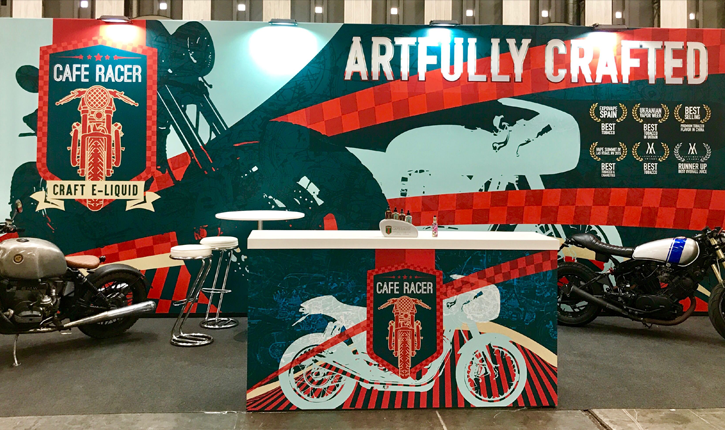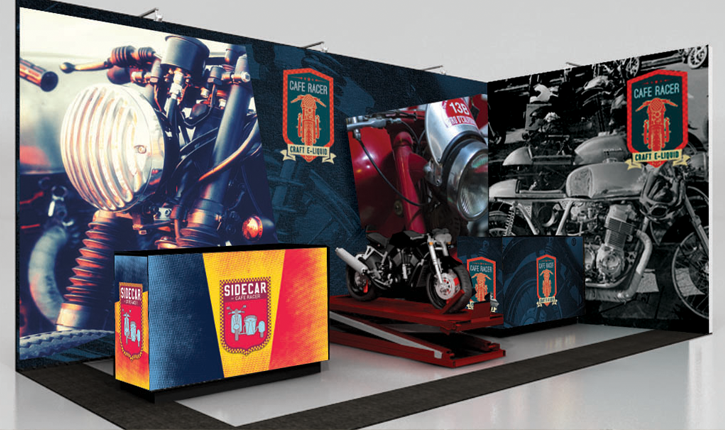 Labels and Packaging
Packaging, Branding
Over the years we have worked closely with Cafe Racer to produce both domestic and international versions of labeling and packaging for their entire line of products including not only their main Cafe Racer flavors but also the Side Car and Salty Bastard vape liquid lines.
3D Product Visualization
Promotional, Branding
As part of the rebrand and update to Cafe Racer's look we developed custom 3D assets for their product lines for use in eCommerce stores, social media marketing, and print promotional materials which can be seen world-wide.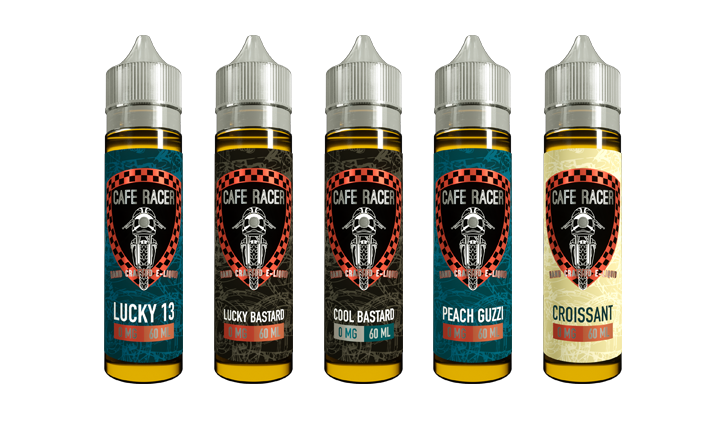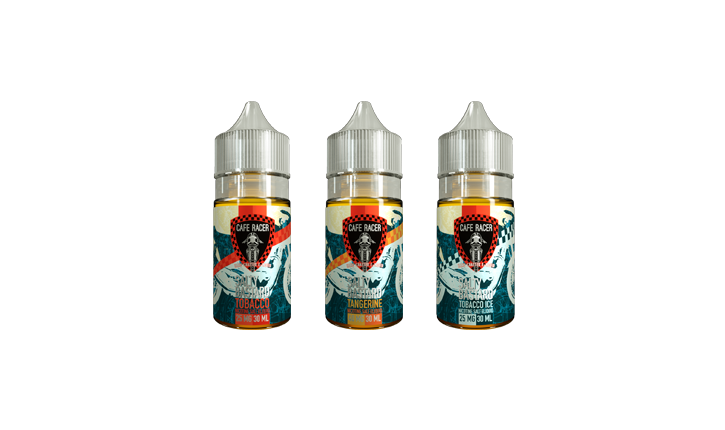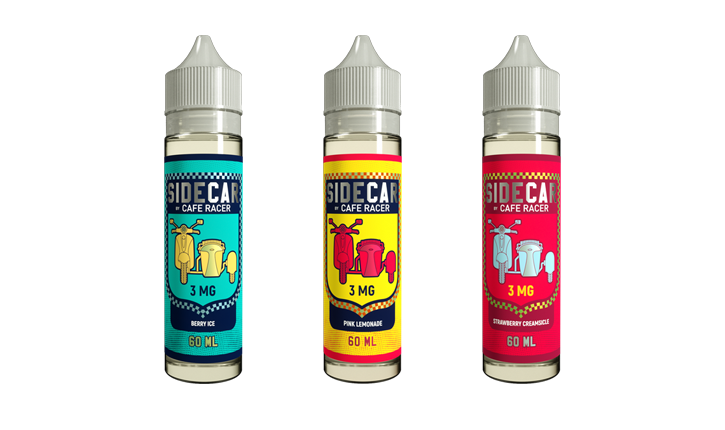 Logo Refresh and Rebranding
Logos, Promotional, Branding, Web Development
In 2018 Cafe Racer approached us to help with a world-wide rebrand project. In order to make this happen we worked closely with the company and their original logo design team to design a their new bold logo. Once we nailed down the design we went on to put a new face on their entire product line, web site, promotional materials, and exhibition booths.